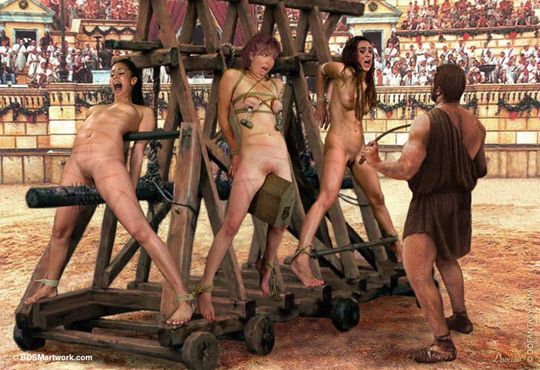 ...The coliseum was full today; there was an added attraction that drew the pervense and the vengeful crowd. After the gladiator's fought, the winners would have the choice of the young maids who rode the "Machine of Torment".
Uselessly pleading and struggling weakly, these girl were brought out before the crowds. Their lavish robes were torn away and they were stripped bare. The cheers rose as they were led to the wooden machine and installed upon it's hideous frame.
"AAUUUUGH...NO...STOP...LET ME GO...AAIIIEEEE!" The girls were stretched, molested and whipped as the crowd roared it's approval. These were not common whores (at least not yet), these were the daughters of deposed roman senators who had been stripped of their positions, their possessions, and, in particular, of their 18 year old daughters.
"Shove you hand up their cunts", one woman shouted above the din, "make them squirm".
"No", shouted a man, "let the tiger's fuck them first." Laughter ensued at the thought of these once rich, proud and pampered girls being fucked by mighty beast...
Your filthy dreams have been heard by our artists and you have the chance to gain the missed scenes while you were awake. Join now to gain access to the archives with HQ bdsm comics featuring lovely babes in chains and ropes. Kept in the dungeons the sweet ladies are subjected to cruel treatment bringing them pain and torments but they keep the faith someday this all be over. Get inside and witness the adorable maids absolutely naked and abused in our incredibly realistic bdsm comics.
click on the image for more preview