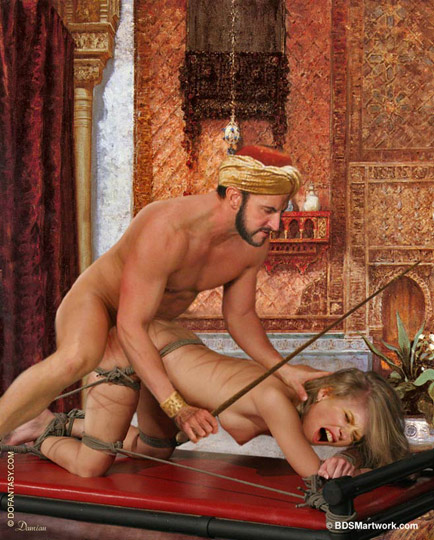 THE PERVERTED PALACE
The riches of the opulent palace hide the sadistic perversions that Sheik Abduallah is famous for. He's adorned the rooms of his adobe with tapestries and rugs that would be the prize of any museum in the Western world. But his true pleasure comes from decorating his many rooms with the most beautiful foreign women he can get his hands on!
Some women have been bought from whte slavers... other's taken from their own beds.
"Fuck me back, white whore! Fuck your master like a devoted little lap-dog... yeah... you know how to take a dick up your silky cunt... and how to earn a belly full of creamy jizz... Getting your ass fucked should be second nature to an immoral slut like you!"
"OOWWWWWW! I... I'm trying, Master... Please... Please don't be so rough.... AAIEEEEE!!! I've never... never been fucked there... before...-sob-..."
"Stop you whining and start fucking, bitch! No excuses! The first time a bitch gets her ass drilled it SHOULD be painful! It should feel like hell! But you'll get used to it... yeah... a few loads of spunk up your shitter will lube you up good... make it easer the next time... But you've got to earn my jizz, white trash! Earn it with your tears and screams!"
"AAAAAAAAIEEEEE! Please, sir! Take it out! AAAAHHHHHH!!!"
Your filthy dreams have been heard by our artists and you have the chance to gain the missed scenes while you were awake. Join now to gain access to the archives with HQ bdsm comics featuring lovely babes in chains and ropes. Kept in the dungeons the sweet ladies are subjected to cruel treatment bringing them pain and torments but they keep the faith someday this all be over. Get inside and witness the adorable maids absolutely naked and abused in our incredibly realistic bdsm comics.
click on the image for more preview